Chosen Foods
You've probably seen Chosen Foods on the shelves at your local store, and for good reason. This oil literally goes with anything and is one of the best oils you can consume. According to Healthline, avocado oil is rich in healthy fats, reduces cholesterol, improves heart health, benefits your eyes, enhances the absorption of important nutrients, reduces symptoms of arthritis, helps prevent gum disease, improves skin, and neutralizes free radicals. Chosen Foods sent us a box filled with incredible products for us to try. Every one of these products is made with clean ingredients and they do not disappoint. Here's our thoughts:
Can't say one bad thing about this oil. It's good on EVERYTHING. It's one of those household staples that you just leave out on the counter because you'll use it that much.
Lemon Garlic Dressing & Marinade
Delicious and creamy! This healthy dressing has so much flavor and is delicious as a marinade, as a salad dressing, or even as a dip for your fries.
Black Garlic / Regular Mayonnaise
While I am not a mayonnaise fan myself, this was a hit in my home. My husband loved the flavor on hot sandwhiches with a bowl of soup. He didn't even notice a different between this and the generic brands.
Run, don't walk, to…Costco. This one was recently spotted in a two pack for a great deal. This convenient little spray is great for all your cooking and baking needs.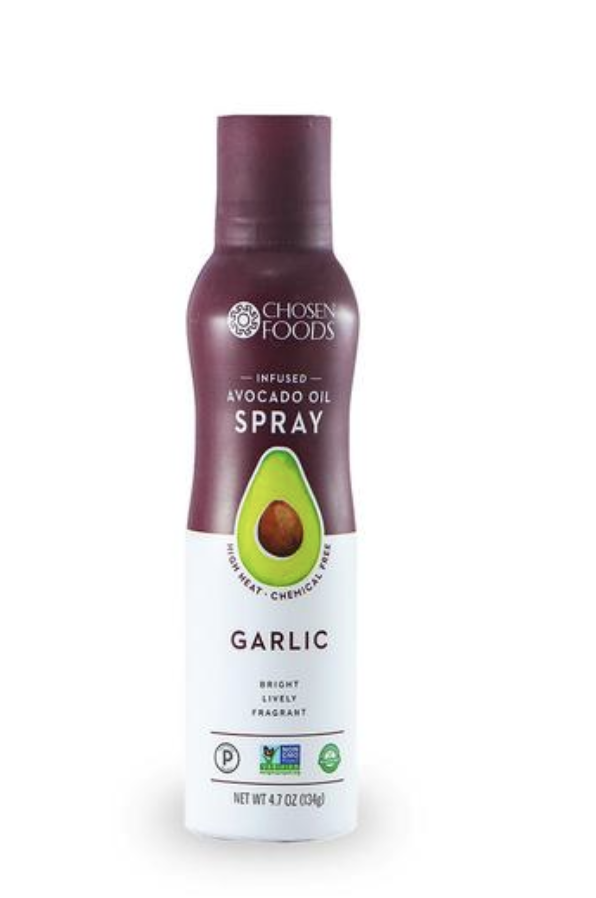 My only complaint is that I wish the bottle was bigger. This goes on fries, veggies, meat, bowls, salads, you name it. The hint of garlic adds such a nice flavor to any dish.
I had no clue that Chosen Foods made Sesame Oil but I am so glad they do. This one has a kick - infused with chili and garlic and completes any dish. This one isn't on their website anymore but you can find it on Amazon.
(Image: Amazon)
*All product images are courtesy of Chosen Foods unless stated otherwise.